Decks and Balconies
One important part of home inspections is deck safety. Every year, people are injured or killed because of deck and balcony collapses. One incident I read of in California, where six people lost their lives for being on a balcony, inspired me to write briefly on the topic. When I first began building, I thought that decks were over-built. Why so many supports, hangers, bolts and lag screws? Why are we pretending it needs to hold a tank? My boss at that time explained the reason very well. He told me that I should assume any deck would be filled with people. This is when I became much more appreciative of why we were building such stout decks. We were not going to fool around with people's lives!
These days, while performing home inspections in the Waco area, I am especially diligent with deck inspections. Here are some questions I consider while inspecting decks:
What are the spans between the support beams? There are span limitations with any species of wood in regard to size. If the deck has not been engineered by a professional engineer, a span table can be helpful.
How is the ledger attached? Ledgers should be well-secured to the house frame in most cases. This usually involves a minimum of two 3/8 inch by 5 inch lag screws every 32 inches. Carriage bolts are even better, but these can only be installed in new construction. Too many fasteners, within reason, is better than not enough fasteners.
Are approved connectors in use? These are joist hangers, post to beam connections, elevated post anchors and other connectors that are designed to insure that the framing members will not pull apart over time due to weathering, expansion and contraction. Of course, they also add strength and integrity to the structure overall. Fasteners should be galvanized or stainless steel to resist corrosion. Typically, 1 1/2 inch 10D nails are required with connectors.
Is diagonal bracing present on supports for raised decks? The rule of thumb for this is for decks that are 12 feet or higher above ground, but even at 8 feet, I would recommend diagonal bracing. At the very worst, it is a bit too much, and that is never a bad thing when it comes to decks.
The numbered points above only apply to some types of decks. Another style uses cantilever, where the joist supports extend into the floor framing of the house or structure. The rule of thumb for this is for every foot that extends from the building, two feet extend into the floor area. These types of decks or balconies are difficult to inspect with any certainty on a completed house. They are also difficult to maintain properly and can lose integrity over time. A better, more reliable design would include steel beams.
A house at Lake Whitney I inspected last year had a deck that served as a strong example of a dangerous deck. It provided a gorgeous view, but I was nervous being on it with just two other people. I hope the pictures speak for themselves, but there are some comments to help.
Loose handrail and newel post, not able to resist 200 pounds of lateral pressure as generally required. No balusters or spindles at the staircase handrail to help prevent a fall of considerable distance. Balusters or spindles that were present were spaced more than the required minimum of 4 inches. These conditions presented a safety hazard.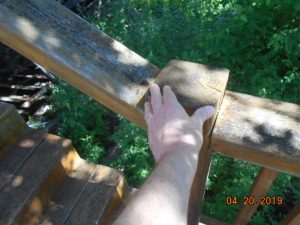 Diagonal bracing provided support to the deck at its highest elevation, which was 16 feet and dropping because of the slope of the ground. A fall from that end or a deck collapse could result in severe injury or death. The bracing was connected to an upright post about 12 feet back, which also had bracing, forming a "web." While this may have been sufficient to hold the deck and even a few people, this section should be able to hold as many people as could fit in that area, or 20-25 people. Would you want to join a large group of people on this deck?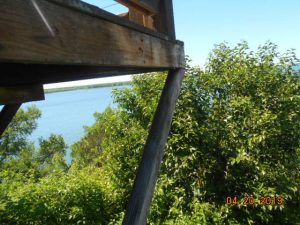 Support posts were not secured to concrete piers on elevated post anchors as typically required. Support posts and beams were landscape timbers, which are not necessarily rated for strength, and are not intended to provide framing support of any kind. There were no post to beam connections as typically required.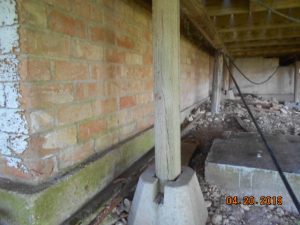 Note the landscape timbers used for beam support and the post that is cracked from top to bottom. There were no joist hangers, which are typically required and provide added safety. Although this section was only five feet above ground, how comfortable would that feel if you were unprepared for a sudden fall?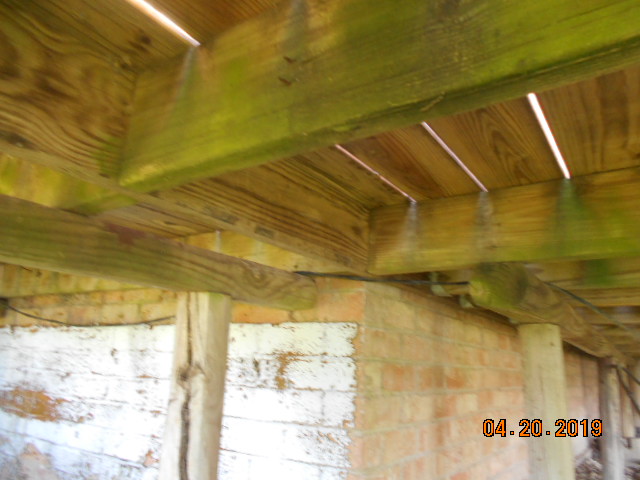 Here is a sagging handrail with a 16 foot drop below, underscoring a need for mid-span newel posts. Horizontal wires were questionable, but technically okay. Unfortunately, when I pushed on the railing there, it was loose and wobbly. The view was breathtaking, but the fall would really take your breath away.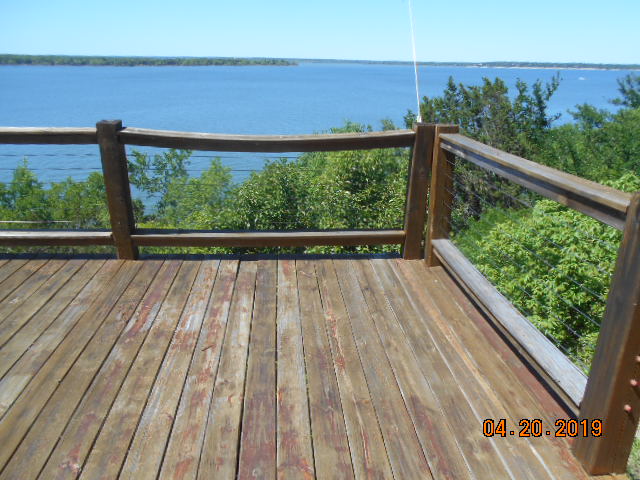 The post at left in the above picture looked like this below where it had been secured to the rim joist. With a 16 foot potential fall, wouldn't you want that post to have lag bolts or carriage bolts? Wouldn't you feel a bit safer if the rim joist was doubled there, which is a best practice? This deck was a danger to life and limb, and I gave my professional opinion thoroughly in the inspection report for this house.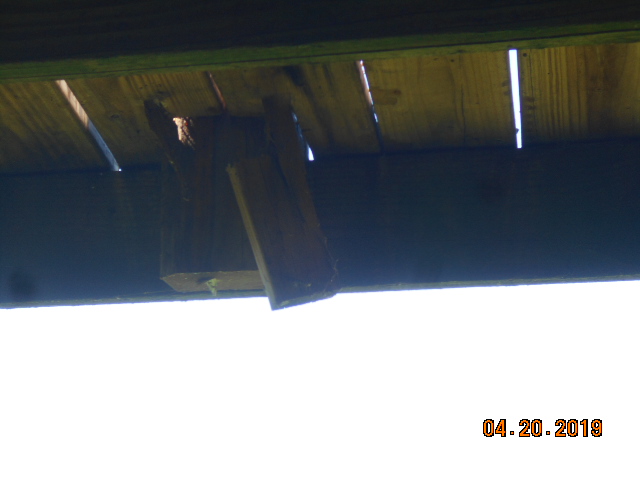 This deck not only had to support itself, but also provided support to an upper floor of the house. Stone dressed columns were not directly supported under the deck, which is not visible in this picture. Also note the warped deck planking near the hot tub.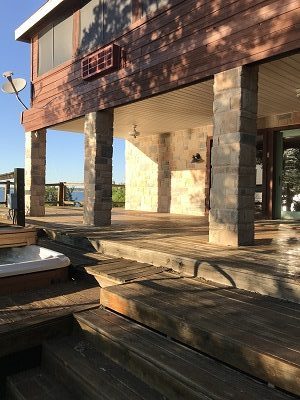 Decks should be well-designed and built with what may be called redundant features. In a nutshell, there should be no doubt that a deck will hold as many people as can fit on it with no strain. However, even a well-built deck needs ongoing maintenance. Flat surfaces are especially vulnerable to the effects of water and sun damage. Because of this, it is important to keep your deck well-sealed or painted. This will protect the surfaces and extend the life of the materials.
If you have read this far and would like an inspection of your deck, feel free to contact me. I can provide you with information on the condition of it and make recommendations for repairs or maintenance as a third party inspector.